On a Tuesday evening late last month we kept our doors open late for a night of crafting, shopping & champagne. Our first Sip, Shop & Make event was such a huge success and we were so happy to see everyone enjoying themselves, learning how to make new crafts and making friends!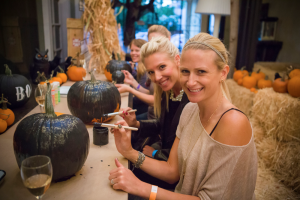 The Makery staff had a ton of fun hosting this event and we learned a lot!  The night was full of surprises: we had nearly 75 attendees and we raffled off great prizes.
We're having our next Sip, Shop & Make next Tuesday, October 22 with even more surprises in store.  Retail will be 10% off with special giveaways, champagne and light bites will be served, and we'll have even more room for making. Chef Mona will also come by to demonstrate a unique fusion of cooking and making – using juicers from here – to create fabulous designs. Invite your friends for a night of fun at The Makery!